Atelier

The Atelier is a place for exploration of materials and ideas. We further develop concepts connected to academic curriculum as well as skills and techniques inherent to the art making process. We learn visual art vocabulary, further critical thinking, and problem solving in a variety of art mediums.
Music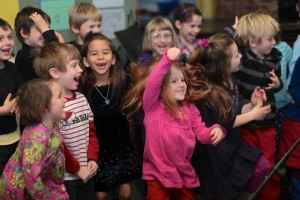 Singing is the backbone of the music program at Hilltown and familiar songs create a shared language within our community. Students begin learning the repertoire when they enter the school in kindergarten and the whole school sings together weekly at All-School Meeting. Music classes often involve learning songs or dances that specifically connect to the students' social studies, language arts, or science curriculum in addition to community and seasonal songs.
K-6 classes meet twice a week for music and movement. Lessons are centered around active music-making and skills development.
K/1 students build a strong foundation for music-making, focusing on developing a steady beat, accurate singing voice, and cooperative skills through songs, games, dances, and playing simple instruments.
2/3 students continue to strengthen their singing and rhythmic skills, and are introduced to literacy (reading and writing notation). The Orff instrumentarium (barred percussion) are used to accompany songs and practice skills.
4/5 students learn soprano recorder and soprano ukulele, as well as more complex percussion pieces.
6th graders learn alto recorder and baritone ukulele, applying their knowledge to songwriting.
K-3 classes develop kinesthetic and expressive skills through creative movement, and all classes build community through age-appropriate folk dances.
7/8 music classes meet once a week and lessons balance singing and playing instruments with listening, analysis and integration with other subject areas.

At Hilltown, we strive to offer students rich and varied musical experiences and performance opportunities. The Hilltown Chorus for grades 3 through 5 (open to 2nd graders in the spring) performs a varied repertoire of traditional choral music, folk songs, musical theater, and American classics. Singers in 6th through 8th graders are invited to join Hilltown Harmonies. The Chamber Ensemble is open to intermediate and advanced instrumentalists. Other extracurricular activities (Percussion Ensemble, Rock Band, Morris Team), may vary depending on student interest and enrollment. All students perform at the Winter Fair in December and at the Community Music Festival in May.
In addition to the regular music program, Hilltown students also have the option (at parent expense) of studying a string instrument (violin, cello or bass) and playing in the school "orchestra" or studying guitar or bass through group lessons scheduled during the school day.
Movement classes meet once a week for our K-6 students and include Folk Dancing for everyone with an emphasis on Creative Movement for K-3rd graders.