At HCCPS there is always a lot going on. Most of this material is covered in the Family Handbook, but this is the summary schedule of special events that occur throughout the year. Evening events at Hilltown begin after supper at 6:30 unless otherwise indicated. As always, please stop by the Directors' office or call me with any questions.
Deirdre Arthen, Director of Community and Family Engagement

First Friday Fest:
The first Friday families are invited to stay after school for a party. Activities, snacks etc. Very informal.
Class meetings in September:
These are meetings where parents get to meet the teachers, find out about the class' plans for the year, ask questions and offer your help. Expertise and willingness are both most welcome in all of the classrooms. The meetings run from 6:30 – 8 and childcare is available by sign up.
All School: 
A weekly gathering of the whole school for songs and sharing, announcements and celebrating birthdays. Parent help with set up welcome! Fridays, 2:00-2:50 PM.
Community Day:
A school-wide afternoon with group games and community building activities. Parents are welcome.
School photos:
During the fall photographs are taken of students and classes by a volunteer parent. Photos are available to be ordered online. The school receives some of the proceeds from the orders.
New Family breakfast:
All first-year parents are invited to join the Coordinators for breakfast at school starting at 8:15. We want to hear how it's going and by this time you will probably have new questions for us too.
Family Dance:
A community contra dance featuring our new music teacher Marguerite Durant as caller. Dances will be taught, no prior experience needed. Recent dances have included a cakewalk with donated cakes as prizes.
Mini Courses: 
These are elective classes for the students in mixed age groups which happen on 4 consecutive Thursday afternoons several times a year (see the calendar).
Coop Meetings/Ed. Forums:
Evening meeting for all community members – parents and staff – where we talk about current issues or educational topics.
Il Teatro:
A talent show for students on their own or with family members, Il Teatro includes performances and demonstrations of things that students do outside of school. We have seen everything from dancing and musical performances to joke telling, yo-yo mastery and the Gettysburg Address. Family acts are welcome. Il Teatro happens at 8:30 am on the Fridays listed on the calendar, taking the place of All-School on those days.
Winter Fair:
The first Saturday of December, the Winter Fair is a big festive day at school open to the public, where all of the classes perform, families can make crafts, gifts and wreaths, purchase books, enjoy a terrific lunch and have a great time together. We ask all parents and older students to volunteer in order to make it work. No special skills necessary!
Winter Solstice Celebration:
We have a beautiful, secular, winter celebration every year right before vacation to honor the longest night of the year and all of the winter traditions celebrated by our families. Lots of songs and a Mummers Play by the Prisms.
Info night for prospective parents::
An evening meeting in January (about a month before the admissions lottery) for parents considering the school for their child(ren).
Martin Luther King Jr. Celebration:
A special all-school honoring the civil rights movement and the work of Dr. King. All classes participate.
K-5 Sleepover:
Just what it sounds like, 100 kids sleeping on the floors of the classrooms with an army of parent volunteers for supervision. Lots of crazy fun.
Prisms Coffee House:
The Prisms class (grades 7/8) put on dinner and a show for the whole school as a fundraiser for their overnight trip. This is a great time and the younger students love it.
Art Spark:
This is our annual springtime all-adult gala fundraising evening, and is a great time to hang with other Hilltown parents. A band, an auction and wonderful food are all featured. It is open to the public and we encourage everyone to bring a friend. Older students often offer babysitting services that night.
Science Fair:
Parents organize this event which features the independent work of all interested students in the school.
Earth Day All School:
A special focus at the regular All School time. Many classes offer special presentations including themed songs.
Grandparents Day:
Students invite their grandparents or other special adult friends to come on the first Friday on May to spend an afternoon in their classrooms. The visit is followed by the Music Festival in the evening (see below)
Music Festival:
All classes perform on this special evening held the first Friday in May at a local venue. It is quite an impressive evening, good to bring family members to, to share our the school.
Annual Co-op Meeting:
Each year we have an annual meeting where members of the Cooperative (you!) get reports from their board of trustees, vote on new board members and by-law changes and usually discuss topics of relevance. This is an important meeting and we encourage all parents to attend.
8th Grade Project Presentations:
Everyone is invited to come and see what our oldest students have accomplished. These presentations are very impressing and inspiring.
Staff Appreciation Luncheon:
Parents organize a special appreciation luncheon for the school staff near the end of they year.
Summer Celebration:
A day spent celebrating the year, including singing together, a maypole dance, a picnic lunch and an afternoon of outdoor games. Parents are welcome.
Graduation
A very moving evening of transition for our 8th graders. Each graduate is recognized individually by the faculty and make a short speech about their time at Hilltown.
The HCCPS Board of Trustees meets on the second Wednesday evening of each month. Meetings are posted on the calendar in the school entry way as well as on the school website and all of them are open meetings. You are invited to attend any time.
The Friends of Hilltown Board (the school's fundraising non-profit organization) meets monthly at school. Meetings are posted and all parents are welcome!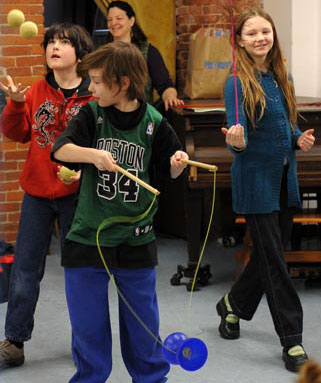 Hilltown supports the sense of school community by holding a weekly gathering of all the classrooms. This varies from week to week and involves some combination of singing, sharing of something learned during the week and museum visits to other classrooms. Parents and families are encouraged to attend.
"Il Teatro"
Several times a year, students are encouraged to share music or poems that they write or love, skits or other self-initiated creative performances with the entire student body. These productions are rehearsed outside of school hours and the performances are greatly anticipated within all of the classes. Parents are invited to attend, or participate with their children. Dates that proposals for performances are due, screening schedules and performance times are distributed through the parent mailboxes.
Birthdays
Birthdays are special occasions for young children and are celebrated by the whole community with a song at the "All-School" closest to the actual day. Summer birthdays are celebrated during the month of June.
Holidays
Hilltown holds special school-wide celebrations at the beginning and the end of each school year and at the beginning of our winter break. Other than these, the school does not celebrate holidays in any formal way, although discussion of special family traditions in class is encouraged.
Special Events
School-wide events that include whole families are one of the ways that our community grows and stays strong. They are a great opportunity to make connections with other parents and get involved in the school community. Most are described here.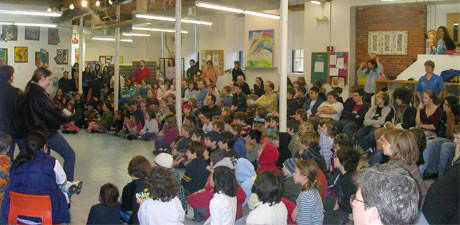 Community events of all sorts are scheduled at least once each month. Look for: Classroom orientation meetings, potlucks, fundraising parties, evening workshops, class and all-school performances and the coop meetings.