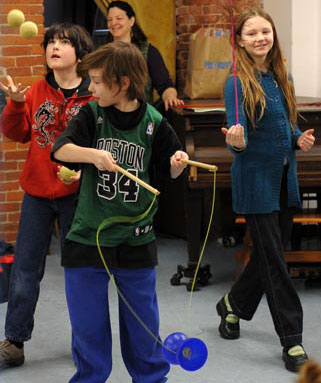 Hilltown supports the sense of school community by holding a weekly gathering of all the classrooms. This varies from week to week and involves some combination of singing, sharing of something learned during the week and museum visits to other classrooms. Parents and families are encouraged to attend.
"Il Teatro"
Several times a year, students are encouraged to share music or poems that they write or love, skits or other self-initiated creative performances with the entire student body. These productions are rehearsed outside of school hours and the performances are greatly anticipated within all of the classes. Parents are invited to attend, or participate with their children. Dates that proposals for performances are due, screening schedules and performance times are distributed through the parent mailboxes.
Birthdays
Birthdays are special occasions for young children and are celebrated by the whole community with a song at the "All-School" closest to the actual day. Summer birthdays are celebrated during the month of June.
Holidays
Hilltown holds special school-wide celebrations at the beginning and the end of each school year and at the beginning of our winter break. Other than these, the school does not celebrate holidays in any formal way, although discussion of special family traditions in class is encouraged.
Special Events
School-wide events that include whole families are one of the ways that our community grows and stays strong. They are a great opportunity to make connections with other parents and get involved in the school community. Most are described here.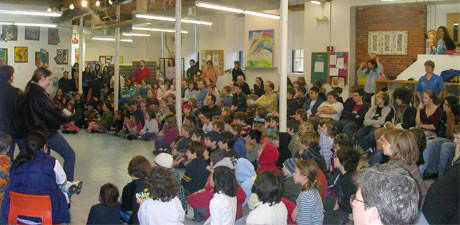 Community events of all sorts are scheduled at least once each month. Look for: Classroom orientation meetings, potlucks, fundraising parties, evening workshops, class and all-school performances and the coop meetings.