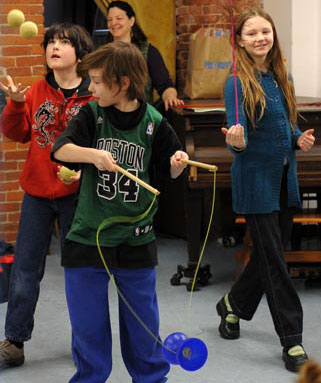 Hilltown supports the sense of school community by holding a weekly gathering of all the classrooms. This varies from week to week and involves some combination of singing, sharing of something learned during the week and museum visits to other classrooms. Parents and families are encouraged to attend. This year it is scheduled on Fridays at 2:05 pm.
"Il Teatro"
Several times a year, students are encouraged to share music or poems that they write or love, skits or other self-initiated creative performances with the entire student body. These productions are rehearsed outside of school hours and the performances are greatly anticipated within all of the classes. Parents are invited to attend, or participate with their children. Dates that proposals for performances are due, screening schedules and performance times are distributed through the parent mailboxes.
Birthdays
Birthdays are special occasions for young children and are celebrated by the whole community with a song at the "All-School" closest to the actual day. Summer birthdays are celebrated during the month of June. Some classes permit a birthday child to bring in a special snack to share with the class. Check this policy with your child's teacher.

Birthday parties, of course, are usually limited in size and cannot include all of the children in the school. In order to prevent hurt feelings, the distribution of invitations is not permitted at school, either in person or in the parent mailboxes. Please also be careful when arranging transportation to an after-school party. A group of excited children leaving together can easily make others feel left out.
Holidays
Hilltown holds special school-wide celebrations at the beginning and the end of each school year and at the beginning of our winter break. Other than these, the school does not celebrate holidays in any formal way, although discussion of special family traditions in class is encouraged. Some classes may share valentine's cards or dress up at Halloween, but each teacher makes these decisions independently. Check with your child's teacher.
Special Events
School-wide events that include whole families are one of the ways that our community grows and stays strong. They are a great opportunity to make connections with other parents and get involved in the school community. Most are described here.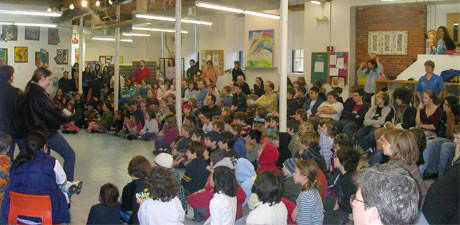 Community events of all sorts are scheduled at least once each month. Look for: Classroom orientation meetings, potlucks, fundraising parties, evening workshops, class and all-school performances and the coop meetings.
At after-hours school events, the school's basic policies regarding student behavior: no running, shouting, climbing or going outdoors without an adult remain in effect. Parents are responsible for supervising their children at all times. Staff members are not on-duty after hours. In the event that students' behaviors become dangerous or distracting during an event, the activity will be stopped and parents will be asked to re-establish order before it resumes.