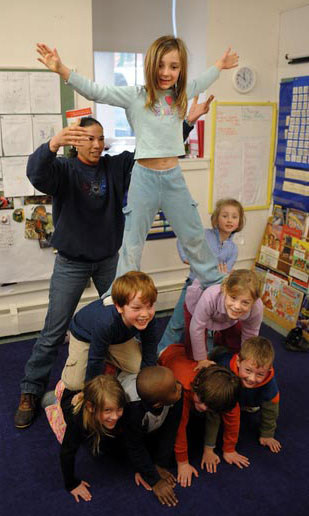 The Hilltown Cooperative Charter Public School is a public K- 8 school and is open to children from any Massachusetts town, on a space available basis. Priority is given to siblings of current students and residents of Hampshire and Franklin counties. No tuition or application fee is required. Hilltown does not discriminate on the basis of race, color, national origin, creed, sex, ethnicity, sexual orientation, mental or physical disability, age, ancestry, athletic performance, special need, proficiency in the English language, or academic achievement.
Parents of prospective students should contact the school for an application, or download the 2017-18 Application and mail or email it to the school.
Tours of the school are available by appointment starting in October and an Open House is held every January. As required by Massachusetts regulation Hilltown conducts an annual admissions lottery in February to assign students to a waiting list for the following September. Enrollment preference is given to siblings of currently enrolled students and to residents of Hampshire and Franklin counties, in compliance with state regulations. As openings occur, the top person on the list is offered the slot. Following the admissions lottery, parents are notified of acceptance or waiting list status. Applicants remain on the waiting for the duration of the school year as there may be mid- year openings. Once a student is enrolled at Hilltown s/he has a secure space for subsequent years. School meetings orient families to the cooperative structure of the school and help welcome them into the school community.